When:
April 10, 2020 @ 6:45 pm – 7:30 pm
2020-04-10T18:45:00-05:00
2020-04-10T19:30:00-05:00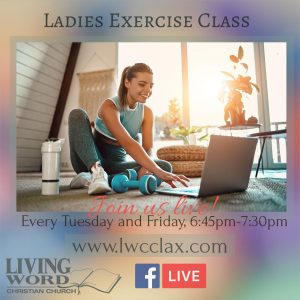 The Ladies Exercise Class is live-streamed on Tuesdays and Fridays from 6:45 – 7:30 pm.
Join on Facebook LIVE or on our website
The goal of this class is to provide a safe and Christian environment for ladies to exercise. Class will be led by an instructor who will open with prayer and review some encouraging scripture. We will begin with a warm-up and some stretching, and then move into an exercise routine. We will transition to a cool down, review our scripture for the class and close in prayer. Please come dressed in comfortable clothes and tennis shoes ready to exercise. Come join us for some encouragement in God's word and some profitable bodily exercise! Exercises will be accommodated to all ages and fitness levels, all are welcome!